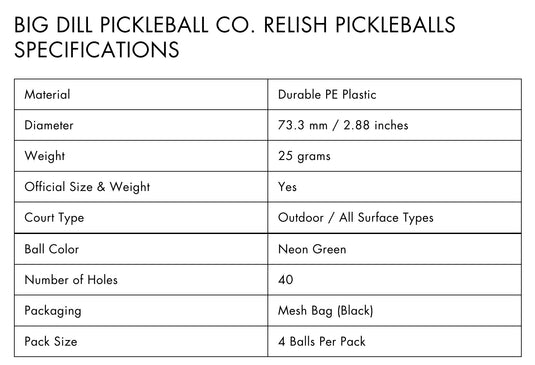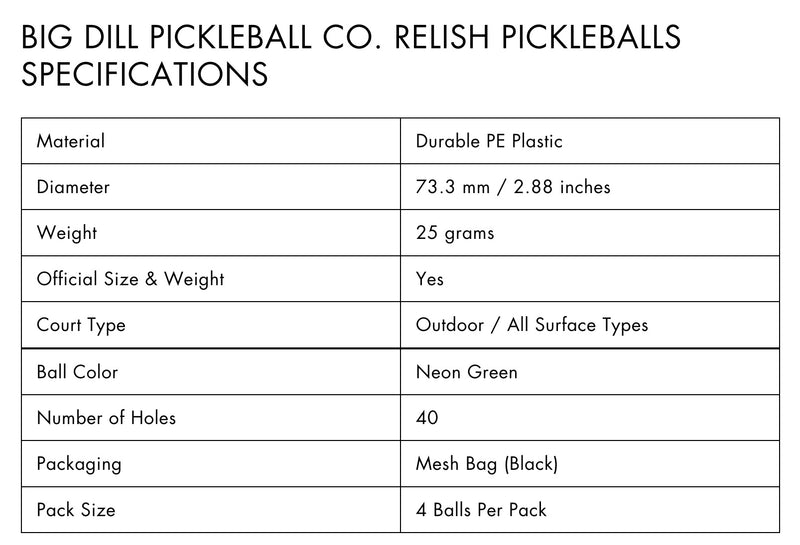 Big Dill Relish Outdoor Pickleball Balls - 4 Pack
Big Dill Pickleball began it's journey in 2020 and they have not looked back since. Although their journey began in 2020, it really began over 15+ years ago, as they began playing the game as a child. Big Dill Pickleball Co. is one of the most unique pickleball brands in the world. The Big Dill Relish Outdoor Pickleball Balls comes in a 4 pack and is everything you need.
These Big Dill Outdoor Pickleball Balls are machine welded for strength. Balanced for incredible spin and pop. Included with a bag to keep your relish pickleballs safe.
Features:
Built to be stronger and more damage-resistant than others, the Relish will retain its shape and stability, strike after strike.

Expect consistent spin, pop, and stability from each ball. These balls stay round and won't easily become damaged or misshapen quickly, giving you more value.

The Big Dill Pickleball Co. Relish Balls are made with a rotational moulding injection-plastic process. Each seam is machine-welded to ensure strength and a smooth rebound.

These outdoor balls feature 40 precision-drilled holes and are made of slightly heavier plastic for wind resistance and durability. The Relish stands up to the elements for accuracy and reliability.

Each order comes with a drawstring mesh bag for storage on and off the court. Throw this pickleball set in your pickleball bag or car for an easy, reusable, take-along solution.

Whether you're a beginner or rated professional, you'll likely need a lot of balls for practice, games, and tournaments. Stock up for more fun and more play!